Photography by
News
I'm finally getting round to getting some of my favourite and/or best photos up on to the web. Expect more updates as time goes on...
Canvas Prints
Some of my photos are now available to purchase printed on canvas via Catch in Colour, both in their ebay shop and on their website
These are excellent quality and really good value.
Contact / Buy
Enter contact form here
My Portfolio

This is just a random collection of my favourite photographs
Karting at Lydd International Raceway
9th September 2006
A friend of mine let me have a go in his gearbox kart, and I took a few photos while I was there.
Ducks and swans - taken with my new 70-300mm lens

28th August 2006

I've just purchased a Nikon 70-300mm zoom lens from a friend and this was my first outing with it. I think I need a bit more practise tracking flying objects...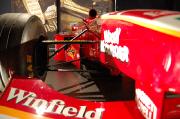 Williams F1 Factory and Museum tour
16th August 2006
I managed to get a tour of the Williams F1 factory and museum as the company I work for is one of the principal sponsors of the team. Unfortunately I wasn't allowed to take any photos inside the factory but the museum was very interesting.
British Motorshow 2006, Excel, London 2006

28th July 2006

The motorshow returns to London for the first time in a number of years so I went down there to try out my new Nikon D50.
Malaysian GP, Sepang 2006

19th March 2006

I was working in Singapore the week before the Malaysian Grand Prix, so it seemed rude not to make the short trip to Kuala Lumpur to watch the F1 race.
BMW F1 Party, KL 2006

19th March 2006

I also managed to sneak into the BMW F1 party.